Les Auld heads north
Early this year, long-time member Les Auld said farewell to Central Safety Group, as he has moved to Far North Queensland –lucky man!
Les has been a valued member since the early 1990s and also served as Vice President from 2012 to 2014.
I asked Les to share stories from his life in Health & Safety and I think many of us can identify with the path he followed.

During the mid-1960s, he was working in the Catering Branch accounting office of the Victorian Railways when they advertised for a safety officer. He decided to apply and was successful. From there he gained his first OHS qualification at South Melbourne Tech.

His main duty was dealing with PPE. Safety footwear was supplied free to employees, but a fair percentage was being returned as a bad fit. Therefore, Les and a colleague would roam the state in a van full of safety shoes & boots in all brands and sizes to assist employees obtain the best fit.

Les says: "On one occasion we were in a station office, fitting track men, and a shoe came flying across the room. We said, "What did you do that for?" The guy came back, "Well, if I can kick it off, it doesn't fit." That was a lesson well learnt."

He was sent off to expand his knowledge, which included doing the ACTU Safety Rep course. This led to him being asked to conduct safety training for staff. While it put him well outside his comfort zone, he appreciated the experience.
The job entailed him visiting and liaising with management and staff at various locations, ranging from the cafés at Flinders St to canteens at rail workshops to the Mount Buffalo Chalet, which was run by the railways back then.
Les worked on the implementation of a catering module for country trains, which is still in use. At the same time he gained a qualification in food safety from William Angliss College.
Eventually he became a Senior Safety Officer in the Transport Operations Division and remained there until he accepted redundancy in 1988.
A month later he began work as a medical orderly with Melbourne Health, his first "blue collar" job, which naturally involved a lot of manual work. This included stints in Emergency, X-Ray and the burns unit. After sustaining a back injury 5 years later, he was redeployed as an Assistant Safety Officer, due to his prior experience.
Later on he became Safety and Fire Officer at Northwest Hospital near the zoo. One day, while conducting fire extinguisher training, he turned his attention to the fire blanket. He says: "We had a square metal pan with water and a small splash of petrol. The fire blanket was a bit old in the tooth and had a hole in it. We placed it over the lighted pan and it also burst into flames. I saw the irony of this!"
During this time Les was involved with presenting Safety Rep courses and laser safety courses, and he also formalised his own on-the-job training and initial education with a Diploma of OHS from RMIT.
Les worked on a number of projects, including contamination reduction in the Nuclear Medicine Dept and addressing manual handling issues in the Catheter Lab, where cumbersome monitors and heavy protective aprons posed risks.

When Les retired he did pro bono work for not-for-profit organisations during the period of OHS Act harmonisation. He maintained his membership of CSG, because he found the speakers informative and valuable, not to mention our great Christmas luncheons!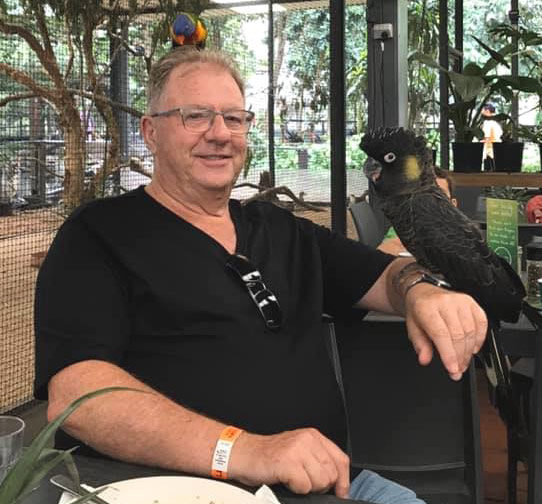 With amazing foresight, he left Melbourne in March 2020. We thank him most sincerely for his many years of loyalty to the group and wish him all the best for his new life up north.