Vale Guy Nettleship
12.3.39 - 8.8.2020
We were very sad to learn towards the end of last year that Life Member and former CSG Treasurer Guy Nettleship had passed away in August 2020 at the age of 81. Guy had a long association with Central Safety Group and was a very valued member.
The group's original name was Central District Industrial Safety Group, when it was formed in conjunction with the Department of Labour and Industry. The emphasis in those early days was on industry and how to address physical hazards. It was also a time when apprenticeships in industries were much more prevalent than they are today. Guy was instrumental in organising CSG's annual 'Apprentice Safety Day' with guest speakers talking on a number of safety-related topics. These were held for a number of years and were a valuable supplement to an apprentice's education.
Some of these events were conducted at Swinburne Technical College (later University) where Guy was Technical Officer, and then later on, Workshop Manager.
Born in 1939 in Surbiton, in Southern England, Guy grew up in Crawley, Sussex. From the age of eight, much of his childhood was spent at boarding school. In the late 1950's, he moved to NE England where he attended the South Shields Marine and Technical College and worked as an apprentice for the Norwegian firm, Christian Salvesen at the Middle Docks. Many of us will recall him regaling us with tales of his seafaring life. As an apprentice engineer and marine engineer, he visited South Georgia on a whaling ship and spent his 21st birthday in the middle of the ocean in the Antarctic Circle.
It was at this time that he met his future wife Alice at the fairgrounds in South Shields. They became engaged in 1962 and married in 1964. The long engagement came about due to the fact that Guy would go to sea for between six and eight months each year.
After becoming an Officer, Guy eventually joined P&O to upgrade his qualifications and obtain his steam ticket and that's how he and Alice ended up in Australia. As he arrived in Sydney on a cargo ship that had explosives on board, the ship couldn't come alongside, so he actually jumped off the ship and swam ashore!
While most of Guy's working life in Australia took place at Swinburne Technical College, he maintained an interest in recreational sailing and even taught his two daughters, Julie and Sally, how to sail when they were teenagers. However, as Sally says, most of the pleasure of sailing for Guy was tinkering with his boats in the garage. The garage was rarely used as a place to park cars, but rather it was Guy's workshop that contained an extensive array of tools, second-hand items, golf clubs, wheelbarrows and anything else he thought might come in useful one day.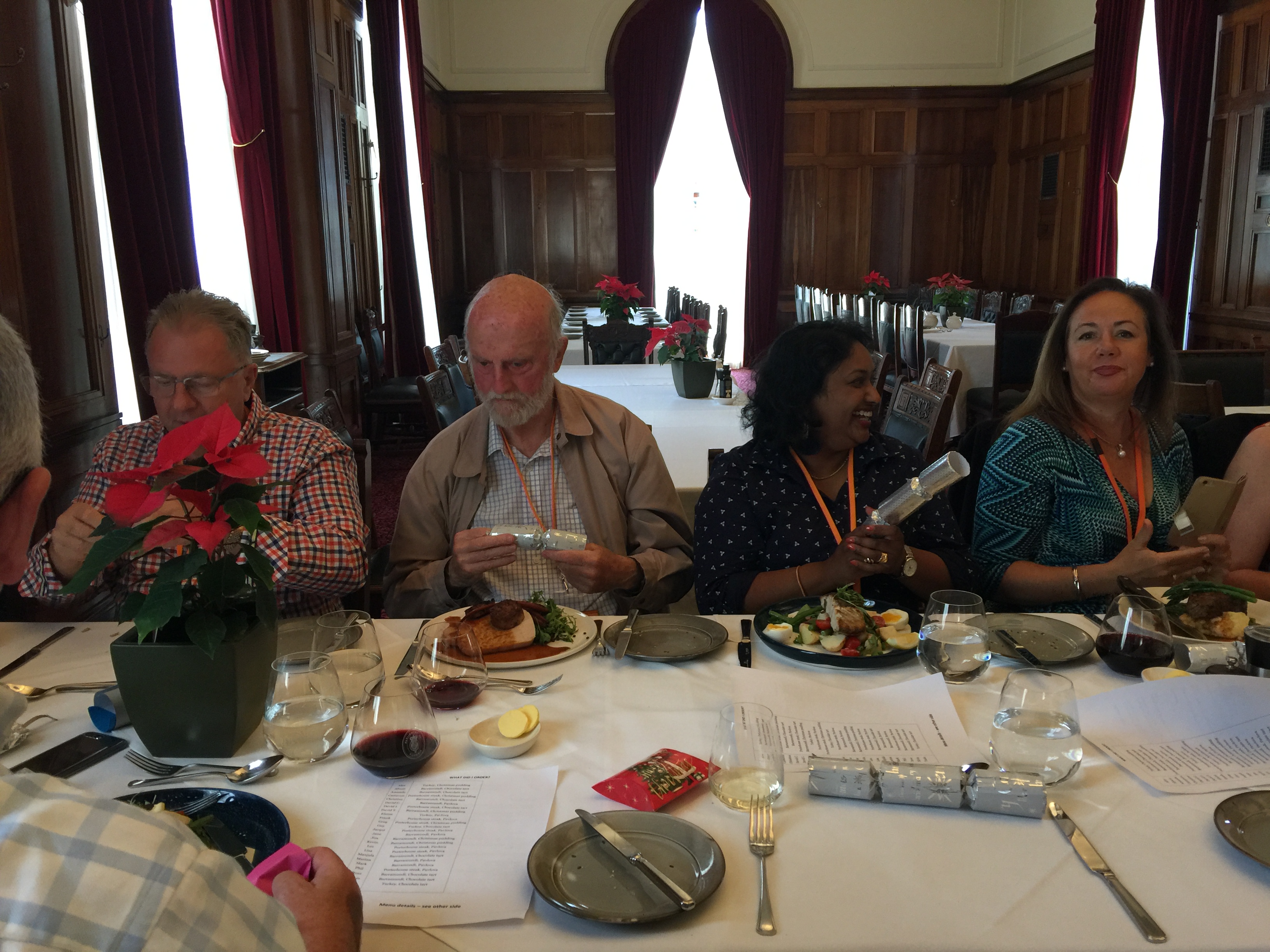 Guy had a number of other interests and was also a very sociable person. Even when he was no longer an active member of CSG, we were always pleased to see him at our annual Christmas lunch. He relished the opportunity to catch up with his friends and colleagues.
Guy and Alice, by all accounts, were keen and excellent ballroom dancers, and could be seen at many a church dance, wedding or formal occasion gliding across the floor.
When his daughters were younger, Guy would assist as back-stage crew for a local amateur theatre company in Nunawading. Later on he became an official and treasurer for Little Athletics while the girls were involved.
Guy joined a number of other clubs and would often be an office-bearer. He was an inaugural member of the Swinburne Staff Club, which began in 1975. He was also inaugural Treasurer for the Swinburne Credit Union (now Bank Australia). When Guy was made redundant from Swinburne, the Staff Club presented him with a large, memorialised name plaque, naming the Billiard Room in his honour.
Following this redundancy at the age of 59, Guy was able to return to his great passion of the sea and boats. Thanks to a three-month stint in NE Queensland, where he worked on ships ferrying mineral cargo, he was able to re-validate his Marine Engineering Certificate. Sally remembers how this reinvigorated Guy and allowed him to secure a casual job with Korevaar Marine Group in Williamstown. He worked on barges refuelling ships in the Yarra River and Port Phillip Bay. He loved being a Marine Engineer at 'sea' again. In his retirement years, Guy continued his connection as a volunteer on the Steam Tug Wattle in Melbourne.
Guy became a grandfather for the first time in 1999 to Joshua and then in 2004 to Taylor. Sally shares this lovely story about them: "Their arrival rekindled Dad's love of trains. We always knew he had a model train set from his childhood, and Joshua's birth prompted him to bring it out of storage. He rigged up an impressive platform and pulley system in the garage and set up his Twin Trix train set. The expansive tracks could be raised and lowered from the roof." That seems to sum up so much about Guy: creative, technically skilled, keen to be involved and caring.
Our sincere condolences go to his wife Alice, his daughters and grandsons, and our thanks to his daughter Sally for providing us with information about Guy's long and fulfilled life.
We invite you to share your memories of Guy via This email address is being protected from spambots. You need JavaScript enabled to view it.