Presentation Now Available
CSG Meeting: February 2019
Speaker:
Rachel McGregor and Ebonie Martello, Safety People
Check out the latest presentation from our February 2019 meeting, now available to members.
OHS careers and recruitment - what's hot and what's not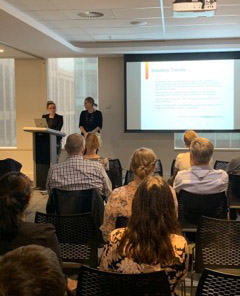 A new year of presentations got off to a great start with a very informative talk from Rachel McGregor and Ebonie Martello of Safety People on the 12th February.
Their experience as OHS recruitment specialists meant they were able to give detailed insights into current trends, including salary trends for various OHS roles, including Safety Advisors, HSE Managers and consultants.
Of particular interest was their discussion about the move away from specialists and the increase in the demand for consultants. They also provided tips for supporting your OHS career.
Their presentation was followed by an extensive Q&A session, which covered such topics as:
stress & the safety professional
qualifications versus practical experience
types of contract positions & their average length
age group issues
advice about CVs
View Presentation
members only, please login first.