Celebrating Ollie Matthews
At Central Safety Group's AGM on the 9th February 2021, our President Alan Matthews (universally and affectionately known as Ollie) formally resigned from the position after being at the helm for an impressive 18 years. Ollie's career in OHS and association with CSG is extensive, making him one of the group's living treasures!
He commenced with Fairfield Plumbing in 1966, which became Pratt Safety Systems in 1974, where he was their sole technical adviser. The company specialised in safety eyewash units; safety showers; safe storing and dispensing of chemicals and flammable liquids, as well as manufacture of safety signs, including working with the authorities to develop HAZCHEM signage for vehicles and buildings. It was at this time that Ollie first started attending CSG meetings.
In 1986 Ollie commenced as the first OHS Manager with the now John Fawkner Private Hospital in Coburg. By 1991 he was OHS Manager for five hospitals and eventually became National OHS Auditor for Healthscope hospitals across Australia, a position he held until March 2015. After a brief break of 6 months, he joined the Ramsay Healthcare group looking after two hospitals part-time before retiring from work in July last year.
Ollie has many memories of CSG since he first attended meetings in 1974 and he offers an insight into the evolution of the group. Originally there were a number of safety groups that all had a connection with the Department of Labour and Industry (DLI), now Worksafe. Meetings were in a similar format to how they were conducted prior to the coronavirus pandemic, but the venues were many and varied. He recalls that meetings in 1974 were held at the Richmond football ground; later they took place in various hotels, including the Celtic Club, and the group even experimented having breakfast meetings at the North Melbourne football ground. Other venues were the Bryant and May match factory in Richmond, the Australian Ballet in Southbank and a number of meeting rooms in offices in the CBD. He also recalls that there was a period when CSG conducted annual Apprentice Seminars with guest speakers on safety-related topics.
In 2003 Ollie was elected President of CSG and in 2013 he was awarded Life Membership. He has overseen many changes within the composition of the Committee. While welcoming and encouraging the evolution of the group through the input of new Comittee members, he provided continuity and a steady and supportive presence along with a strong commitment to our values.
In addition to his illustrious career in OHS and long involvement with CSG, Ollie has packed in many other interests. In 2020 he retired, after 20 years as board member and 16 years as President, of the Riddell District Football and Netball League. He has umpired 2,038 matches and continues to play and umpire football in the AFL Masters competition. In 2019 he was inducte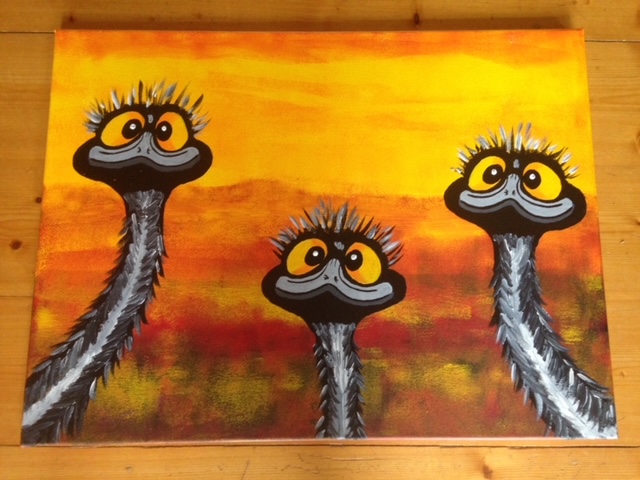 d as a Legend in the Hall of Fame.
Ollie has been a volunteer fireman with the CFA and was the initial Unit Controller with the Craigieburn SES for 10 years. In between all of that, he is a painter of wonderfully quirky emu images.
We wish Ollie all the best in his retirement alongside Jan, his wife of 50 years, their three daughters and seven grandchildren. Family, golf, painting, travelling...he continues to enjoy a rich and fulfilling life, and we look forward to seeing his smiling face at future CSG meetings. Thank you, Ollie, for all you have done for Central Safety Group!